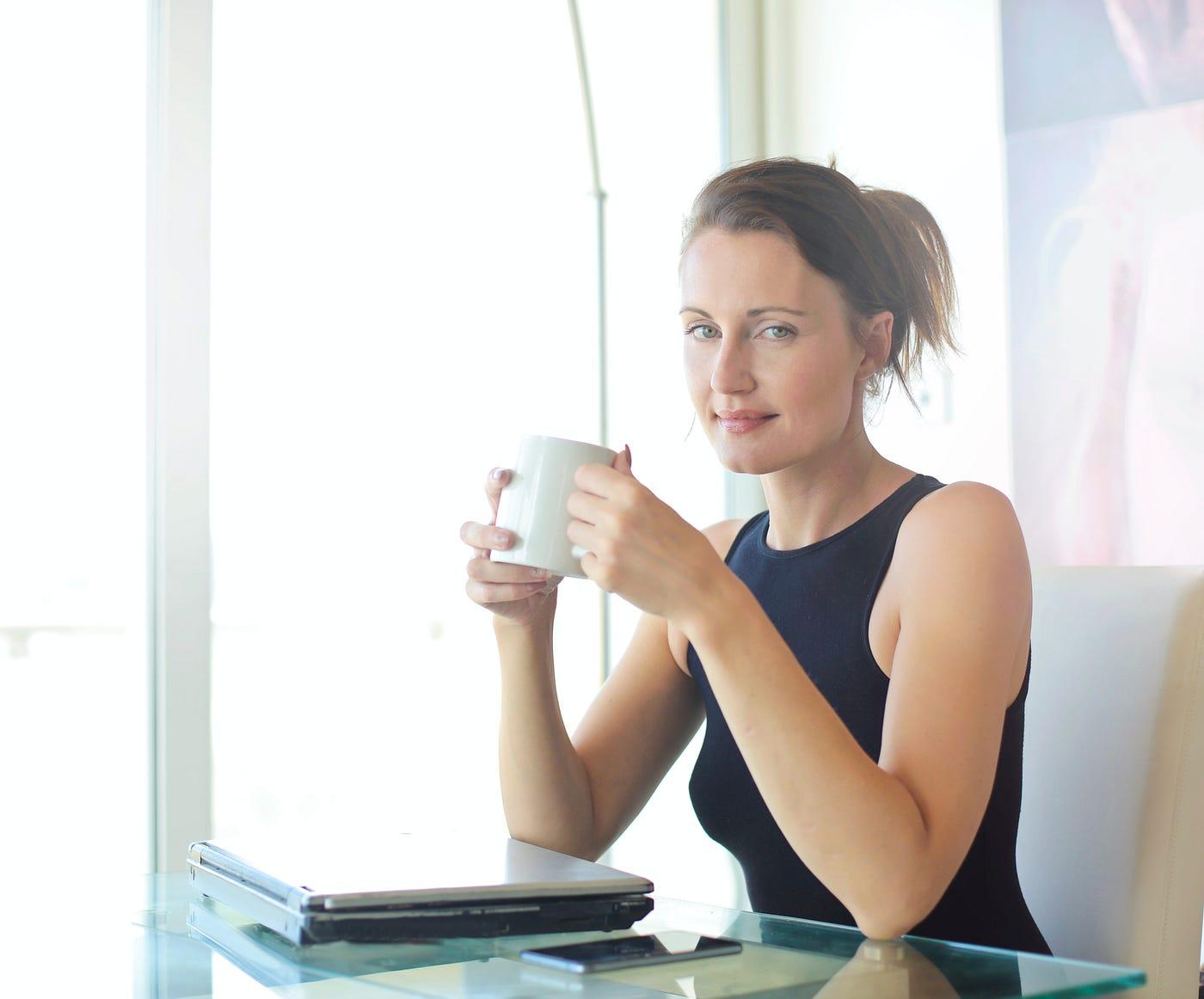 It's so easy to get caught up in the blizzard that greets you the moment you sit down in your office chair each morning. But if you get sucked into it, it will ambush your day. Instead, decide on a strong daily work startup routine, and stick to it.
Of course, you'll want to learn how to optimize your morning routine before you establish your workday startup routine. (And eventually, you can master your schedule in four parts: your morning routine, workday startup routine, work shutdown routine, and evening routine.)
Here's how you can achieve a productive day with a work startup routine.
Manage environment and equipment
Your environment and equipment are essential to having a productive workday. How simple or complicated will it be to organize your office environment each day?
Well, it depends on many factors, including whether you're working from home or not. Hence, I can give some general guidelines, but you'll need to modify these ideas to suit your situation and needs.
Unpack or turn on equipment
I carry my laptop home at the end of each day, so each morning I plug it into my big monitor when I get to the office.
There's other equipment that may need to be switched on, if not already on. The obvious one is the printer/scanner, but there may be other things as well.
Do a quick check of critical equipment
If anything malfunctioned overnight, try to problem-solve it first thing in the morning. That way it won't interrupt your workload later. And, if you find an equipment problem that needs repairing, you stand a better chance of getting an appointment the same day, rather than a later day, if you call early.
Make sure the phone handsets are charging. It's not unusual for someone (even the janitor) to knock one off the cradle and then it's dead when someone calls the next morning.
Of course, some, including me, would consider the coffee pot to be critical! I switch the coffee pot on before I take off my jacket!
Control communication
This is huge. Mega huge.
Check messages in your communication tool. We use Slack. That begs the question: How far should you dive into your Slack messages before starting your "real" work?
For the most part, I use the two-minute rule. Here, I'm talking about David Allen's two-minute rule, which says if you can do it in less than two minutes, do it immediately.
You might be thinking, "Well, Marie, if I did that all day long, I'd never get anything done." I agree! But you're not doing it all day long. You're doing it just during the time you've allotted for your morning routine.
Check email. This can be a huge trap. Make sure you set up some very strong filters. If you don't like your default email client (e.g., Mac Mail or Outlook), consider something like Spark which many people find to be more efficient for filtering emails.
Check tasks in your task manager. We use Asana, but other popular ones include Monday or ToDoist. And, despite my love for Asana, I have been totally addicted to my Full Focus Planner since 2018, and I don't intend to give it up. It's my lifeline for tying my tasks to my goals and my vision.
Check your calendar, whether it's iCal or Fantastical or something else. If you've got a world-class assistant to manage your calendar, talk out your day together so you're both on the same page. (Your assistant can save you a ton of time!)
Otherwise, check your own calendar, especially with something like Calendly where people may have added themselves to your calendar after you left the office yesterday.
Check your social media account(s). Be careful! Set a time limit for yourself! Otherwise, this can quickly get away from you!
Check anything else that requires a response. For me, it's checking my blog. I don't check each day, but I check the same number of times a week that I blog. If I can answer in under two minutes, I answer right away. (If not, I delay my response, but I still try hard to answer it on the same business day.)
If you have a team, quickly touch base with your senior people. Spend no more than 15 minutes to summarize your goals for the day and any urgent issues that have cropped up since yesterday.
Consider holding a scrum. Basically, a scrum is a 15-minute meeting for the project team, and it goes like this:
What did I (or we) do yesterday?
What are we doing today?
What obstacles might impede our progress?
We have a small office and a small team, so we don't hold a scrum every day. And, for various reasons, we don't hold the scrum at the beginning of the day. But for some organizations, a daily scrum, as part of everyone's startup routine, is critical.
Review daily goals
Review your Big 3 tasks for the day. You may have written your Big 3 the night before, or even a few days before. But make sure to review those three tasks each morning; what seemed like a priority yesterday might not seem like a priority today.
Make sure that your Big 3 tasks are:
in alignment with your weekly goals,
the best use of your time today, and
most likely to give you leverage.
I cannot overemphasize what I read in Maxwell Maltz's book, Psycho-Cybernetics. He explains that humans have a built-in success-seeking mechanism. We are preprogrammed to seek and hit the target. Hence, if we have those goals firmly in our heads, we're more likely to accomplish them.
Writing goals, then reading and re-reading them, helps us to keep the "target" foremost in our minds. Our subconscious is more likely to help us along if we have that focus and visibility.
Start and continue daily
If you've never done a workday startup routine before, here are some steps to get started:
Figure out what you need to do before you hunker down to your real work. That will look different depending on what you do, and whether or not you have a team.
Sketch out tasks to include in your morning startup ritual and estimate the number of minutes it will take to do each.
Don't feel compelled to do your routine full blown when you first establish it. It may take a while to settle comfortably into the saddle.
Whatever process you decide on, re-evaluate it after a few days or even a few weeks. First, look at whether it's working for you. Next, look at how closely you're sticking to the timeline. I'm guessing that you might have underestimated, so don't be afraid to adjust if that seems to make more sense.
Here's a word of caution. Someone in my small group coaching session mentioned that some of her morning routine "spills over" into her workday start-up routine. Honestly, I admit that when I'm working at home, I'm tempted to fall into that trap.
I have a few thoughts on how to approach this.
First, use your list of planned activities for the morning routine. Check them off as you go along. When you're finished, you're finished! Move on to your workday startup routine.
Second, move from your "personal" space to your office. I have an upstairs sitting room, and I do my morning routine there. When I'm finished, I move to my home office, or my off-site office.
Finally, if you truly prefer to have these routines melt into one another, who am I to tell you that you shouldn't? Your aim was never to serve the routine; rather, the routine should serve you. The routine(s) should improve your efficiency, and make you feel good.
Each day when you start your work, just ask yourself what you need to do to get efficiency in your (1) environment, (2) communication, (3) goal achievement, and (4) starting and continuing.
So tell me: What did I forget to mention? What's in your workday startup routine?
Level up your productivity across every hour of your day with your Full Focus planner. Join my Friday Accountability Mastermind Group to find like-minded professionals and learn from an expert!
I am a participant in the Amazon Services LLC Associates Program, an affiliate advertising program designed to provide a means for us to earn fees by linking to Amazon.com and affiliated sites.
This post was first published on my Medium blog—follow me there for the most up-to-date entries!